Who is Ben Aaron?
Ben Aaron is a musician from Farmington, Minnesota. He has played professionally - that is without a day job - since 2010. He is an incredibly talented writer, and is a prolific creator. He writes a brand new song every other week. He alone writes the lyrics, guitar, bass, drums, harmonica, piano, and any other instruments added. He also masters the song, records a video of himself creating the song, and then uploads a Vlog, or video-log of the entire process. He does this every other week! 
Ben'sYouTube Chanel: Ben Aaron Music 
In addition to Ben's weekly writing he plays a show nearly every day of the week! He plays during the lunch hour at Potbelly's Sandwich shop Tuesday through Saturday. Potbelly's kept Ben alive during his early years as a performer! His schedule can be seen on his Shows tab. He also plays at several local venues, and loves playing private parties as well! 
To Hire Ben at your establishment, event, or backyard party... reach out to Aubrey Sertic at info@benaaronmusic.com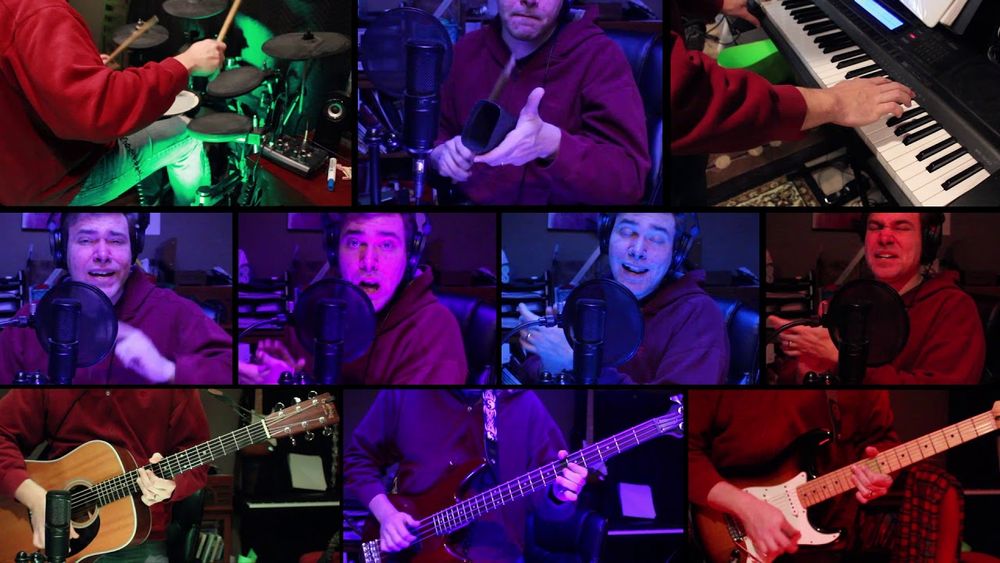 Ben's Humble Beginning
Born in 1987, Ben Aaron has been playing the guitar since the age of ten. Finding his voice and picking up the harmonica were the last steps in order for him to become a true folk singer. Ben takes influences from the Folk Revival, Country Blues, and the New Americana music that's sweeping the nation. He has been a professional songster since 2010.

------------------------------------------------------------------------------

Hello. My name is Ben Aaron.

I have been playing guitar since I was 10 years old when my folks split up. My mother bought me my first acoustic, nylon stringed guitar where I tried to imitate Jimi Hendrix and Led Zeppelin without success.

Many moons passed and the dream grew stronger. I joined a band in high school where we played the most technical death metal that Farmington, Minnesota never heard. You couldn't tap your toes to it if your tried.

After high school, I worked hard and bought myself a genuine American Stratocaster. I practiced and I finally reached my dreams of playing Rock and Roll in front of a live 4th of July audience; 7 people.

I wanted to write my own songs. I couldn't do covers all my life. So traveling to Dinkytown, I pawned my Strat for a months rent and an acoustic guitar at The Podium. From the windows of the bookstore next to The Podium, I spied a selection of Bob Dylan records and even a poster cut-out. I thought, maybe he knows something about music. A moment later down the road, I saw a mural that said "Possitively 4th Street" on the side of a building. It had a black and white painting of a young man that resembled Jimi Hendrix. It was only a few days later that I found out that my favorite Hendrix song, "All Along the Watchtower" was a song written by Bob Dylan, and he was the man painted in Dinkytown.

I wanted to write songs like that. I decided it would be a good investment to purchase a Greatest Hits album by this Dylan character. So I went to my nearest music provider and purchased the CD. I was shocked with what I heard. What was in this guy's head? Who was he writting his songs to? "Everybody must get stoned"? Really? What year were these songs written... 1965?! Is this guy still alive? What the hell is blowin' in the wind?

Time passed. I took philosophy, psychology, and music theory for my short stay at Normandale Community College. The only thing I wanted to do was play music. I got to play in the sound-proof piano rooms of the newly opened Arts department at school. I played my favorite classic rock songs on piano with my triplet knowledge.

I began to enjoy Bob Dylan. I learned that he didn't become famous overnight. He used to only play acoustic guitar and harmonica. I also heard that he used to live in Minneapolis and arrived there from Hibbing. I just wanted to write songs, and this man seems to be covered by all my favorite artists young and old, and even myself.

I asked my friends, and they heard of him, but never really listened to him. I felt like it was my little secret until I found that the kids who smoked cigarettes knew who Bob Dylan was. We would sit outside and talk music, smoke, and complain about work. One day I asked who the "Song to Woody" was for. Someone told me that it was Woody Guthrie. Bob Dylan immitated Woody Guthrie to an extent. Dylan's first album showed a lot of Guthrie's styling and voice. All of these songs were taken from some other songs at one point in time. It seems to be a tradition to pass songs down to younger people and have them make their own versions.

I moved to Dinkytown in August of 2010 looking for a place to start my musical journey. There were all sorts of people, music, and culture that made me feel like I was in some small strange world. I saw some very dirty people dressed in dark clothes on the side of The Loring Pasta Bar that needed money for a bus. They had a sign that read something like, "We need $3.50 to get out of here". I asked if I could help them draw attention by playing music. They couldn't have been happier. So I put down my guitar case, popped it open, slung the guitar around my shoulders, and started singing loud and proud for the first time in public. At first, I didn't get much attention. A few smiles and nods started coming my way. Then a driver pulled his car up and stuck his hand out of his window. He was giving us some money. Lots of money. Fifteen dollars! The two freight train hipsters were jumping up and down, thanking the stranger and myself. I was thanking the man as well. He said I was singing my heart out and deserved something. That was my first public performance and the first time I was paid for playing music.

By September I got myself steady gigs at Potbelly Sandwich shops and coffee houses throughout Minneapolis and St. Paul. I attend open mics on a regular basis to listen to new music and draw influences. Ginkgo's off Snelling is a great place to learn Folk music. I recommend going there and any other open mic to learn from other musicians who love to play.

There is an untold fellowship of Folk music that has standed the tests of time for hundreds of years. In America, the Mississippi River collected a lot of this music and sent it up and down her waters. An instant portion of respect is wagered when a familiar Folk tune is about to be performed. Depending on how well it is interpreted, performed, and altered, the respect will be approved or denied. Still, no one is going to throw rotten vegetables at you. Minnesota nice still exists.